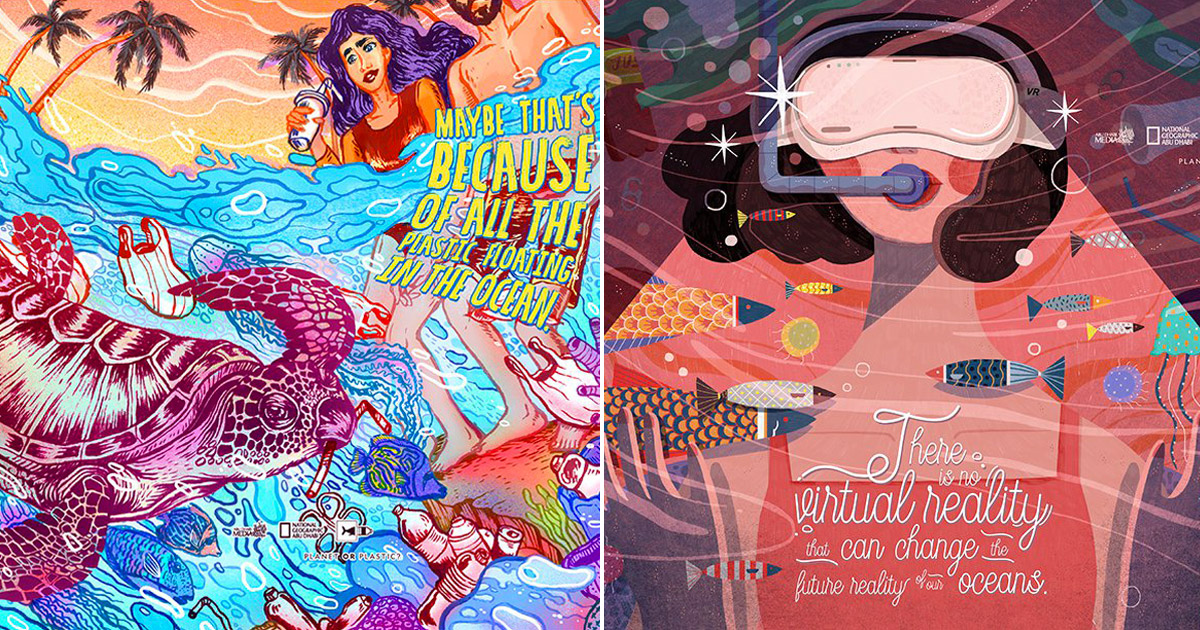 el año pasado, National Geographic lanzó su proyecto 'planeta o plástico' en un esfuerzo por crear conciencia sobre el problema creciente de la contaminación plástica y su impacto en nuestros entornos marinos. este año, han invitado a 12 jóvenes artistas, o "artivistas", de 12 de los países más plásticos del mundo, a crear obras de arte para promover la iniciativa. juntos, los 12 carteles forme un calendario 2019, con el objetivo de difundir el mensaje y ayudar a reducir la cantidad de residuos plásticos.
'Enero: ¿niños o plástico?' Por sheng chen (china)
La iniciativa ha sido lanzada por National Geographic En respuesta a la sorprendente estadística de que actualmente tiramos 9 millones de toneladas de plástico cada año, con 5 billones de piezas de plástico ya en nuestros océanos. En un esfuerzo por combatir esto, cada una de las 12 obras de arte está inspirada en los problemas ambientales y de salud de los desechos plásticos que se enfrentan actualmente en los respectivos países de origen de los artistas. al compartir su punto de vista con una audiencia más amplia, el calendario apunta a difundir el mensaje "¿planeta o plástico?" en todo el mundo.
'Febrero: ¿el futuro o el plástico?' Por kathrin honesta (indonesia)
Para obtener más información sobre el proyecto y para descargar el calendario 2019 o pósteres individuales, puede visitar el sitio geográfico nacional. sitio web. Aquí también puede ver los videos cortos que explican cada obra de arte con mayor detalle y que muestran la producción paso a paso y los testimonios de los autores.
"Marcha: ¿dieta saludable o plástico?" Por Kristy anne ligones, también conocida como KDLIG (Filipinas)
"Abril: ¿vida silvestre o plástico?" Por thao mien phan (vietnam)
'Mayo azul océano o plástico?' Por ruwangi amarasinghe (sri lanka)
"Junio: ¿gigante o plástico suave?" Por bom cherdsak alias 2CHOEY (Tailandia)
"Julio: ¿el mejor amigo del hombre o el plástico?" Por ahmed karam (Egipto)
"Agosto: ¿perla o plástico?" Por kelseyz aka troublexy (Malasia)
"Septiembre: ¿medio ambiente o plástico?" Por thomas of the cosmos (nigeria)
"Octubre: ¿criaturas marinas o plástico?" Por helena layzu (bangladesh)
"Noviembre: ¿pájaros o plástico?" Por wilmari botha (Sudáfrica)
"Diciembre: ¿vida marina o plástico?" Por Pavan Rajurkar (India)
Información del proyecto:
Nombre del proyecto: ¿Planeta o plástico?
iniciativa: National Geographic
artistas: sheng chen, kathrin honesta, kristy anne ligones, también conocido como KDLIG, thao mien phan, ruwangi amarasinghe, bom cherdsak, también conocido como 2CHOEY, ahmed karam, kelseyz aka problemxy, thomas del cosmos, helena layzu, wilmari botha, pavan rajurkar
designboom ha recibido este proyecto de nuestraPresentaciones de bricolaje'Característica, donde damos la bienvenida a nuestros lectores a presentar su propio trabajo para su publicación. Ver más presentaciones de proyectos de nuestros lectores.aquí.
editado por: lynne myers | designboom